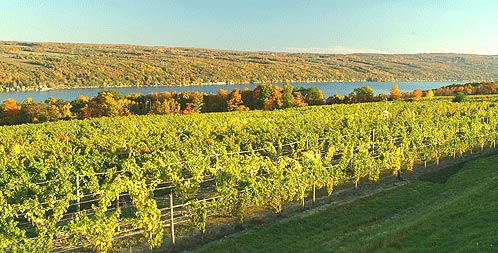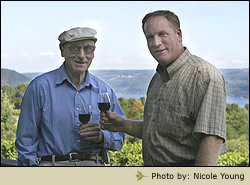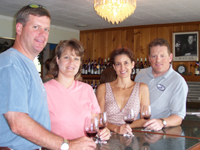 Dr. Konstantin Frank Vinifera Wine Cellars
ATTRACTIONS OFFICIAL WEBSITE&nbsp&nbsp&nbspCONTACT ATTRACTION
TELL A FRIEND

Visit the Finger Lakes winery founded by the legendary Dr. Konstantin Frank, pioneer grower of European wine grape varieties in the eastern United States, on Keuka Lake in New York State. Founded in 1962, Vinifera Wine Cellars was the first Finger Lakes winery to produce truly world-class wines. They include: Johannisberg Riesling-Dry and Semi-Dry, Cabernet Sauvignon, Pinot Noir, Rkatsiteli, Fleur de Pinot Noir, Chardonnay and others. To this day, Vinifera Wine Cellars - now in the capable hands of Dr. Frank's son, Willy and grandson Fred - is regarded as a pillar of the area's fine wine industry.

Its sister winery, Chateau Frank, is dedicated to producing outstanding sparkling wines. Chateau Frank's flagship Brut Champagne has received countless accolades and has caught the attention of wine experts from coast to coast.

Tasting Room Information:
The tasting room is open Monday-Saturday from 9-5, and Sunday from 12-5. Reservations are required for ALL limousine, bus, and hired transport groups.
Groups of 10 or more will be charged with a non-refundable fee of $5.00 per person. There is a 24-maximum group size.

We always enjoy making new friends and sharing a glass of wine with wine lovers traveling through the Finger Lakes region with our New York Wine Tours. The tasting room is open daily 9-5 and Sundays 12-5. We also have a number of special events at our New York winery; see our schedule. The legacy of Dr. Frank also continues in our grapevine nursery, providing the best possible grafted vines for your vineyard.

Text/Pictures are copyrighted; used with permission.
alt=directions
From South: Take US Route 17 (I-86) to exit 38 in Bath and follow Highway 54 North to Route 54A through Hammondsport. Follow North on 54A 1/4 mile out of town and make the first left on County Route 76. Continue on Cty. Rte. 76 and follow the signs 6 miles to the winery.

From North: Take I-90 (N.Y.S. Thruway) to exit 42 and follow Route 14 South through Geneva and continue South 15 miles along Seneca Lake (Route 14). Take Route 54 West 4 miles to Penn Yan. In Penn Yan, take 54A to Branchport and continue South (54A) along Keuka Lake. Go about 9 miles and look for the Dr. Frank sign at Gibson Hill Road and make a right. Go up the hill, straight at the Yield sign and make the first left at Middle Road (white barns). Follow Middle Road for 2 miles to the winery.
Blush:
- Salmon Run Rainbow Rosé (NV) $ 7.99

Red:
- Dr. Frank Merlot (2004) $19.99
- Dr. Frank Cabernet Franc (2003) $19.99
- Salmon Run Coho Red (NV) $ 7.99
- Salmon Run Pinot Noir (NV) $12.99
- Salmon Run Meritage (2002) $12.99
- Salmon Run Cabernet Franc (2003) $12.99
- Salmon Run Petit Noir (NV) $ 8.99

Sparkling:
- Chateau Frank Brut Champagne (2000) Limited $24.99
- Chateau Frank Blanc de Blancs (1999) Limited $34.99
- Chateau Frank Célèbre (NV) $19.99
- Chateau Frank Blanc de Noirs (2000) $39.99

White:
- Dr. Frank Chardonnay (2003) $14.99
- Salmon Run Chardonnay (2003) $10.99
- Salmon Run Riesling (NV) $12.99
- Salmon Run Cold Brook White (NV) $7.99


VISA ,MASTERCARD ,CASH
NON SMOKING, PARKING AVAILABLE, RV PARKING,
This Page Has Been Viewed 1893 Times