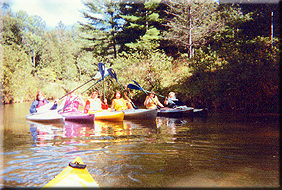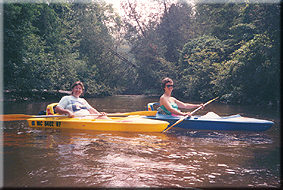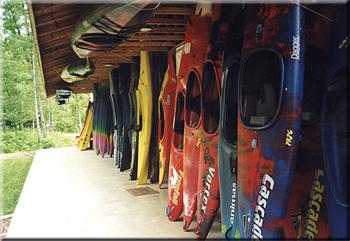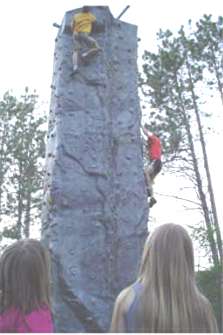 alt=nearby attraction
Canoe-Kayak-Raft-Hike-Bike-Climb-Camp
ATTRACTIONS OFFICIAL WEBSITE&nbsp&nbsp&nbspCONTACT ATTRACTION
TELL A FRIEND

Hidden in the Heart of the Manistee National Forest, the PINE RIVER PADDLESPORTS CENTER rents canoes, kayaks, and rubber rafts on the Pine and Big Manistee Rivers, Michiganís premiere paddlesport rivers. PRPC is also home to the Wow Wall, a 32 foot tall, super-safe, automatic-belay rock climbing wall. PRPC also operates a very clean, very quiet, very secure campground, and the PRPC Adventure Store stocked with camp & river trip essentials, UpNorth clothing, souvenirs, and gift items.

The Pine River Paddlesport Center and Quiet Campground is a hub for forest-friendly recreationists and is adjacent to the Pere Marquette State Forest. PRPC is a great base camp from which to enjoy the many rivers, trails, dunes, and lakes in the area. Canoe, kayak, and rubber raft rentals for the Pine and Manistee Rivers, Michigan's premiere paddlesport streams.

Paddlecraft:
PRPC has the Midwest's largest selection of canoes, kayaks, and rafts, we will provide you with the craft that is appropriate for your weight and experience level. We have Old Town and Grumman canoes, Star, Aire, and Hyside rafts, Dagger, Wilderness Systems, Old Town, Wavesport, and Mainstream kayaks; you have choices available that you simply cannot find anywhere else.

At PRPC, you can choose to paddle a solo canoe or a tandem, a whitewater canoe or a tripping canoe, a recreational kayak or a whitewater kayak, a sit-on-top or a tandem kayak, a sea kayak or a rodeo kayak, a 2-3 man raft or a 4-man raft...you name it, the choice is yours. Experienced paddlers all, it is the forte of our staff to fit you to craft that is right for you.

Further Information/Guest Feedback:
Paddler feedback confirms the Pine is simply the best paddlesports river in the Midwest. It's gradient gives it the most fun-factor and makes it the best river on which to learn and practice paddling skills. The nice part is anyone can do it. And PRPC is properly positioned to help them. There's absolutely no experience necessary.

Through a beautiful and ever-changing riverscape, the Pine runs predominantly through State and National Forest lands. The Pine is approximately 65 miles long, and has a gradient of 12 feet per mile, the highest of any northern Michigan river. With several access sites, you can take a trip most any length you desire. And with several campgrounds along and near the Pine, itís a great stream for a two or three day canoe trip.

After our staff quickly fits you to a craft that is weight and experience appropriate, and a comfortable life vest that fits so well you hardly know it's on, we give everyone new to paddling or to the Pine a quick primer that gives them everything they need to know to go out and paddle with confidence and control. We help thousands do it every year and 99% of our guests finish their trip having had so much fun they're already planning their next trip. Start planning today to see what you're missing. We're ready for you!

Walker Bridge Canoe Livery
The Pine Riverís Best Kept Secret, the Walker Bridge Canoe Livery. Located on the upper Pine, this office is off the beaten path, so fewer folks discover this beautiful stretch of river, where the stream is a bit smaller and a bit shallower. WBCL is right on the river's edge, and all trips end right at the office.

It is the only rental right on the river. With the riverside location, we incur less expense associated with transportation and can rent to you for less money. It is a gorgeous stretch of river that you should not miss. There are day trips of 2, 3, 4, and 5 hours ending at our office.
alt=directions
On Highway M-37, 1.5 miles south of Highway M-55.
$25 - $140; Please email for further information.
VISA ,MASTERCARD ,DISCOVER ,CASH ,CHECKS
NON SMOKING, KID FRIENDLY, HANDICAPPED ACCESS, PARKING AVAILABLE, RV PARKING,
This Page Has Been Viewed 1 Times