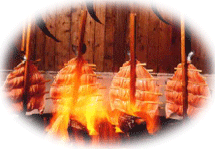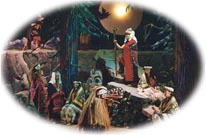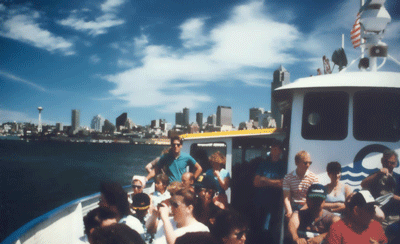 Welcome to Tillicum Village!
ATTRACTIONS OFFICIAL WEBSITE&nbsp&nbsp&nbspCONTACT ATTRACTION
TELL A FRIEND

Since 1962, thousands of groups have visited Tillicum Village for the fresh salmon dinner and to experience the Northwest Coast Native American culture.

Located only 8 miles from Seattle's downtown waterfront on Blake Island State Park, this beautiful shore side setting provides a perfect location, accommodating up to 1,000 guests at a time.

Walk up a path strewn with white clamshells bleached by the sun and enjoy steaming clams in nectar broth. Dine in an authentic cedar longhouse, savor salmon baked over open fires on cedar stakes.

Enjoy a spellbinding dance performance, providing an emotional journey through the legends and dances of the Northwest Coast Indians.

Browse through our Gift Gallery of Northwest Coast Native American art, including hand carved masks, plaques, totem poles and beaded jewelry are available for purchase in the Gift Gallery.

Explore the beautiful nature trails and beaches of Blake Island State Park.
alt=directions
Driving Directions to Tillicum Village – Pier 55

Going South on I-5
1. Take Columbia/James Street exit (#165A)
2. Take first right on Columbia Street
3. Go to bottom of hill, staying in right lane
4. Turn right under the Alaskan Way viaduct (the elevated freeway)
5. Go 4 ˝ blocks and Pier 55 will be on the left

Going North on I-5
1. Take Madison Street exit
2. Turn left on Madison Street
3. Go to bottom of hill
4. Turn right under the Alaskan Way viaduct (the elevated freeway)
5. Pier 55 will be on the left

Going West on I-90
1. North to I-5
2. Take Madison Street exit
3. Turn left on Madison Street
4. Go to bottom of hill
5. Turn right under the Alaskan Way viaduct (the elevated freeway)
6. Pier 55 will be on the left

Going South on 99
1. Take Western Ave. Exit (First exit after the tunnel)
2. Go through light and take left at stop sign onto Elliott Ave.
3. Right onto Madison
4. Turn right onto Alaskan Way
5. Pier 55 will be on your left.

Going North on 99
1. Take Seneca Street exit
2. Take a right on 1st Ave
3. Take a right on Madison St
4. Take a right on Alaskan Way
5. Pier 55 will be on your left

| | |
| --- | --- |
| Adults (13 - 59) | $69.00 |
| Seniors (60+) | $62.00 |
| Children (5 -12) | $25.00 |
| Children (4 & under) | Free |
VISA ,MASTERCARD ,DISCOVER ,CASH ,CHECKS
KID FRIENDLY, PARKING AVAILABLE, RV PARKING, FOOD AVAILABLE
This Page Has Been Viewed 2208 Times