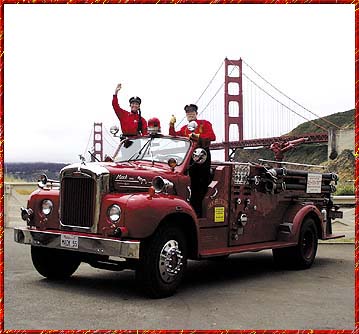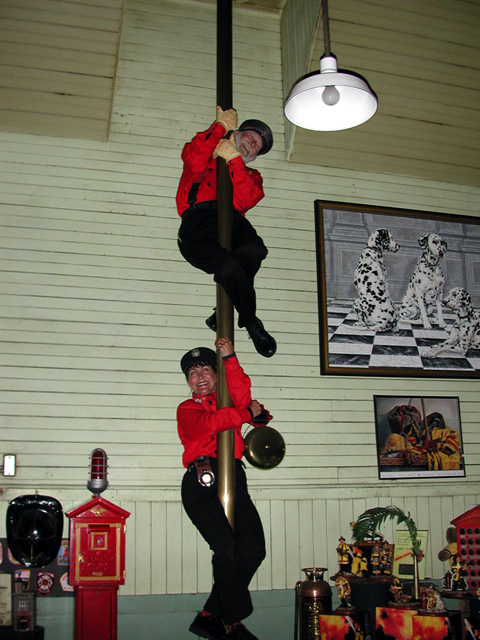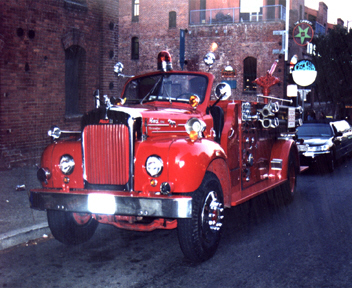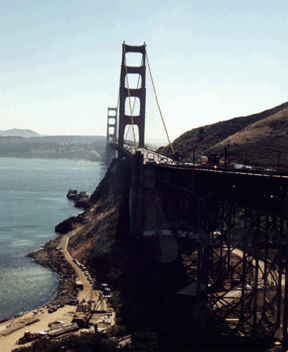 The Best San Francisco has to Offer - San Francisco Fire Engine Tours & Adventures
ATTRACTIONS OFFICIAL WEBSITE&nbsp&nbsp&nbspCONTACT ATTRACTION
TELL A FRIEND

Looking for something different and exciting to do while in San Francisco? San Francisco's Fun and Only Spectacular Big Red Shiny Mack Fire Engine The RED HOT way to tour the San Francisco Bay! Enjoy riding high on our 75 minute tours. Even if you've seen these sights before, this is a whole new experience on the Big red Shiny Mack Fire Engine. Authentic Fire gear is provided for your warmth and comfort and looks great in your photos!

World Famous Fire Engine Tour
Golden Gate Bridge/Presidio/Sausalito Tour: This is an adventure you will always remember. Leaving Fisherman's Wharf we go through the Presidio, to Fort Point at the base of The Bridge and OVER the Golden Gate Bridge. On to Sausalito, a jewel of a village with magnificent views of San Francisco across the Bay. Next, a photo stop at Fort Baker and then back over the bridge, through the lovely Union Street neighborhood and returning to the Cannery.

Tours depart from The Cannery at Fisherman's Wharf located on Beach Street at the foot of Columbus Avenue. Easy to reach by the Hyde Street Cable Car or the F Line Vintage Trolleys. There is a parking garage located directly across the street (can not accommodate oversize vehicles).

Tour Information:
Tours depart daily (except Tuesday).
Daily tours depart at 1:00.
Tours at 11:00, 3:00 & 5:00 are added on certain days.

The Fire House Behind the Scenes:
The Old Firehouse was built in 1896. It was the home of Engine Company 33 from 1896 to 1974. For the past 22 years, it has been the home and headquarters of Captain Robert and Co-Captain Marilyn, the husband and wife team who own and operate Fire Engine Tours.

This Firehouse had two horses, a steamer, a Dalmatian and a rotating crew of firefighters from 1896 until 1921. The Firehouse was one of the last two San Francisco firehouses to become motorized. In 1974 the doors became too small for the bigger fire engines and they built a new 33 around the corner.

San Francisco Fire Engine Tours has Recently Featured On:
THE TRAVEL CHANNEL
THE DISCOVERY CHANNEL
CBS - Evening Magazine
Australia - Getaway
Australia - The Best Of Getaway
HGTV - The Good Life
CH.5 - Evening Magazine
U.K. - You Call The Shots
U.K. - Wish You Were Here
U.K. - The Travel Bug
U.K. - Motoring & Leisure
Japan - ASAHI WEEKLY
S.F.'s - DIGITAL CITY
Advance reservations by telephone, e-mail, or fax necessary as seating is limited.

Seating for 13 passengers of all ages on upholstered seats with seatbelts. Fully insured and licensed.
alt=directions
Golden Gate Bridge/Presidio/Sausalito Tour

Advance reservations by telephone, e-mail, or fax necessary as seating is limited.

Tours depart from The Cannery at Fisherman's Wharf located on Beach Street at the foot of Columbus Avenue. Easy to reach by the Hyde Street Cable Car or the F Line Vintage Trolleys. There is a parking garage located directly across the street (can not accommodate oversize vehicles).

Tour Information:
Tours depart daily (except Tuesday).
Daily tours depart at 1:00.
Tours at 11:00, 3:00 & 5:00 are added on certain days.

Credit card required to guarantee reservation. (include expiration date) Please include name of hotel, date of arrival, & or local /cell phone number.

Rates:
Adults - $35.00 (Startig June 1st 2006 Adult Rates will be $40.00)
Teenagers 13 to 17 years - $30.00
Children 12 years and under - $25.00
(All Prices are in US Dollars and are subject to change without notice.)
VISA ,MASTERCARD ,DISCOVER ,CASH ,OTHER
NON SMOKING, KID FRIENDLY, PARKING AVAILABLE,
This Page Has Been Viewed 1 Times