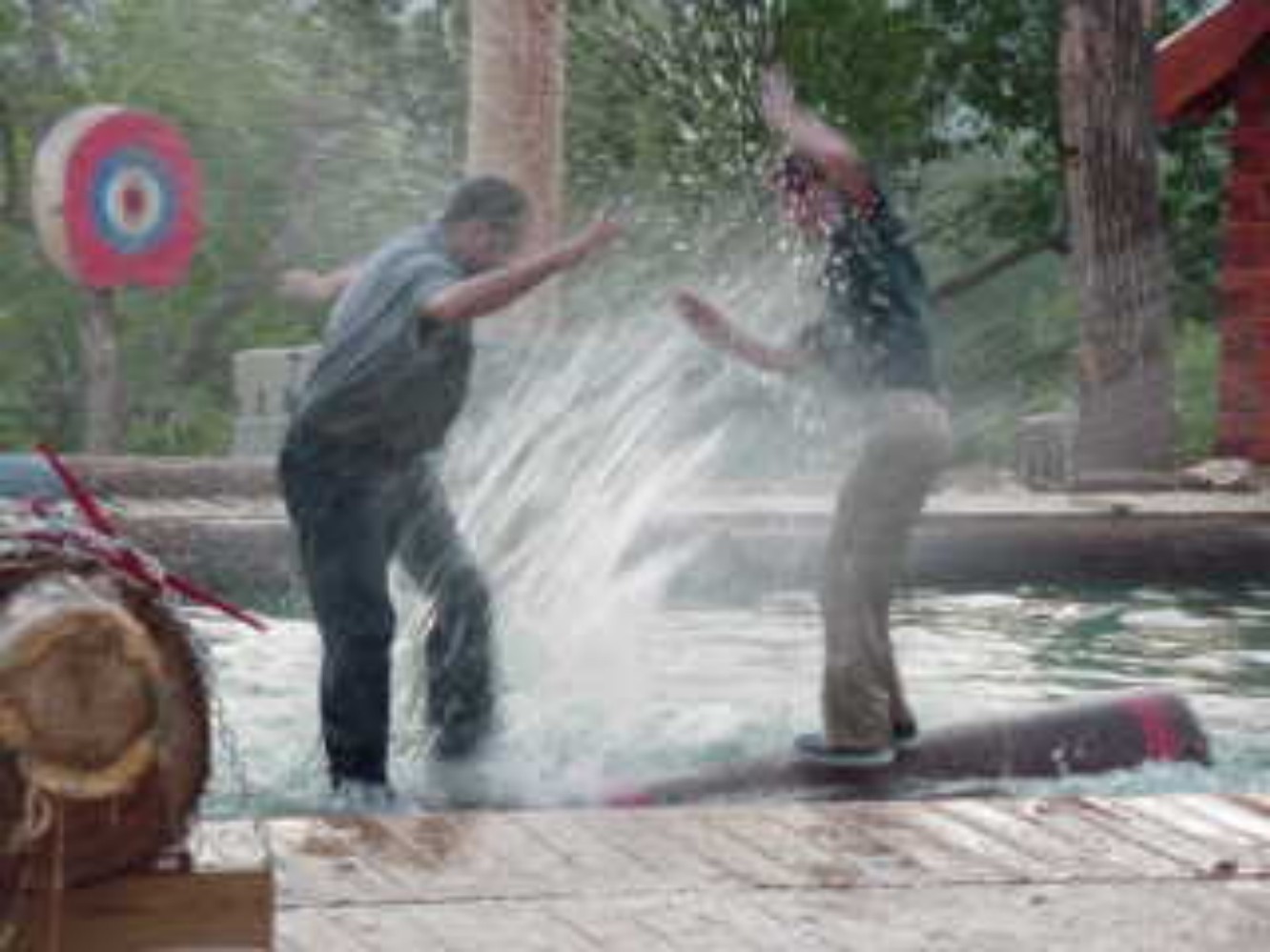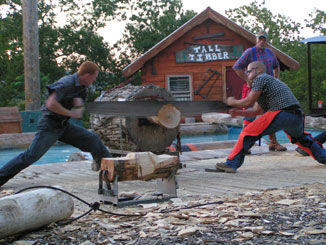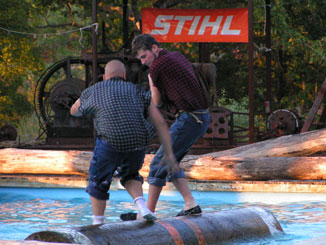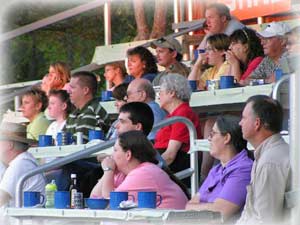 alt=nearby attraction
Tall Timber Lumberjack Dinner Show
ATTRACTIONS OFFICIAL WEBSITE&nbsp&nbsp&nbspCONTACT ATTRACTION
TELL A FRIEND

TALL TIMBER LUMBERJACK DINNER SHOW

No Song, No Dance, Just a Great Lumberjack Show

The Tall Timber Lumberjack Show's motto says a lot about this fast paced and unique Branson show. From the moment your group arrives, they'll know they are in for an experience unlike any other in Branson.

The theater is nestled in the woods overlooking Table Rock Lake, just 1.5 miles south of Silver Dollar City off Indian Point Road. The view from this outdoor theater is incredible. The audience sits in a covered open-air pavilion surrounded by an Ozark Mountain forest. Table Rock Lake stretches out in front of them and the fresh mountain air and sweet smells of the forest (and dinner!) are truly inspiring.

A hearty, lumberjack-style dinner is served during the show. Served on tin plates by servers wielding pots of food, you'll savor such treats as Tall Timber Tender Rib Eye Steak or Mesquite Chicken Breast grilled to perfection, along with all the fixings. Your group will find this meal substantial and satisfying.

The show features world-class Lumberjacks competing in events fashioned after actual logging skills used by timber jacks throughout history. There are two camps, which compete against each other to the delight and cheers of the audience. The camp cook, in addition to cooking the meal, serves as host for the show. Events include chopping, sawing, ax throwing, pole climbing and the always favorite log rolling, as well as audience participation competitions, with the winning team claiming the title Bull of the Woods. Everyone cheers for their side as they enjoy the athletic abilities of the men, learn the history and lore of logging and laugh at the antics as the men tease and torment each other and the camp cook.

The 90-minute, action packed show will surely amuse, entertain and amaze your group. They'll come away with an appreciation of the history of logging when lumberjacks literally put their lives on the line to build our nation.

The show is held rain or shine with dinner served at 5:30 p.m. There is plenty of time afterward to make it to an 8:00 p.m. show. Or how about capping off a day at Silver Dollar City with this meal and show?

The combination of an entertaining show, a tasty meal, a beautiful setting and friendly, outgoing service makes this a not-to-be forgotten time on your group's itinerary.

If your group is tired of the same old song and dance in Branson and is looking for something new and exciting, check out this show! For reservations to this fun time, call. We know you'll agree, Tall Timber Lumberjack Dinner Show is exciting and satisfying, a truly different encounter in Branson!
alt=directions
DIRECTIONS FROM SPRINGFIELD:
1. Get onto US-65 S
2. Take the MO-465/OZARK MOUNTAIN HIGHROAD/MO-F exit
3. Turn RIGHT onto MO-465 S/OZARK MOUNTAIN HIGHROAD
4. At the end of the HIGHROAD, Turn LEFT onto MO-76 West
5. Turn LEFT at INDIAN POINT RD. (Silver Dollar City road)
6. Turn RIGHT onto JOHN THE DIVER TRAIL (1/2 mi. past S.D.C. entrance)
7. In Approx. 1/2 mi., Turn LEFT onto LONG LONESOME RD.
8. Another 1/2 mi. to Arrive at the Tall Timber Lumberjack Show

DIRECTIONS FROM BRANSON:
1. Take MO-76 West out of Branson
2. Turn LEFT at INDIAN POINT RD. (Silver Dollar City road)
3. Turn RIGHT onto JOHN THE DIVER TRAIL (1/2 mi. past S.D.C. entrance)
4. In Approx. 1/2 mi., Turn LEFT onto LONG LONESOME RD.
5. Another 1/2 mi. to Arrive at the Tall Timber Lumberjack Show

Adult ticket prices $37.97
Child ticket (6-15) $27.19
Under 5 free

*Tax and meal included in this price*
VISA ,MASTERCARD ,DISCOVER ,CASH ,CHECKS
KID FRIENDLY, HANDICAPPED ACCESS, PARKING AVAILABLE, RV PARKING, FOOD AVAILABLE
This Page Has Been Viewed 1 Times