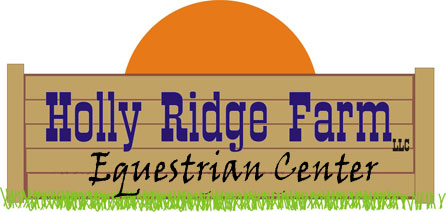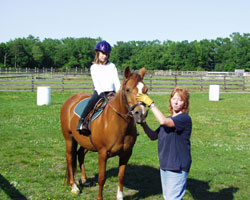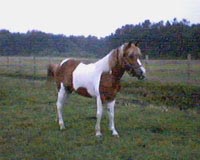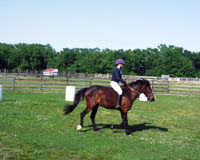 alt=nearby attraction
Horseback Riding at Holly Ridge Farms
ATTRACTIONS OFFICIAL WEBSITE&nbsp&nbsp&nbspCONTACT ATTRACTION
TELL A FRIEND

Holly Ridge Farm Equestrian Boarding Center is located on the border of two historical counties Worcester and Wicomico. The farm backs up to the Pocomoke River and is mostly open flat countryside and deep dense woods. We are only 15 -20 minutes from either Ocean City or Salisbury, Maryland.

Folks are you looking for a western experience here on the eastern shore? Well let us provide you with a genuine horseback riding experience. Holly Ridge Farm sits along side of the Pocomoke River nestled in the deep woods. We offer adults and kids over 12 years of age an opportunity to have a one or two hour ride. An experienced trail guide and trail master will accompany each ride. Horses are calm and experienced so that you can have an easy ride. Surrounded by prime agricultural land you will have the feel of being a million miles from the city. The trail loops around the Cypress trees and through the Paw Paw foliage. The lifestyle here on the farm is not at all as it was 75 years ago when this was a poultry farm with corn and soybean crops.

Today horses are fed, trained and ridden daily. Fence and trail clearing projects are done weekly. Trails wind through towering pines and dense undergrowth. It is possible to view eagles, hawks, raccoons, white tail deer and other wild life. Each ride starts out with professional instruction. On the trail we use western saddles. You may request English if you prefer. The time has never been better for a family trail ride.

NOTE: Please Remember You Must Have Reservations!!!

RAIN? No need to worry if it rains! We have an indoor arena where riding fun begins. Try a barrel racing lesson or games on horseback.

Holly Ridge Farm Equestrian Center is dedicated to the sport of riding for education and fun! Our emphasis is on safety for both rider and horse. We hope to instill a sense of pride and accomplishment based on high yet attainable industry standards for all of our riders.

Holly Ridge has several levels in a series of riding programs. Each of our horse riding courses addresses a different aspect of riding including non-riding seminars and instructional grooming sessions. English and Western style riding. Our new indoor arena with attached stables was designed to maximize natural light and airflow.

Holly Ridge Farm Equestrian Center offering all your Equestrian needs like, trail rides, riding lessons, clinics, stables, summer horse camps, horse boarding and birthday parties!
alt=directions
US Route 50 east - 9 miles past purdue stadium take right onto Rt. 354 south - to 3 miles - take left turn onto Purnell Crossing Road the stable is 2 miles on left.
$50.00 Per hour

Can anyone ride?
*Adults or children over 12 with parents.
*Minors must have legal guardian or parent's signature.
*Some restriction may apply.
*Weight limit 225.00 lb
,CASH
KID FRIENDLY, PARKING AVAILABLE,
This Page Has Been Viewed 2752 Times