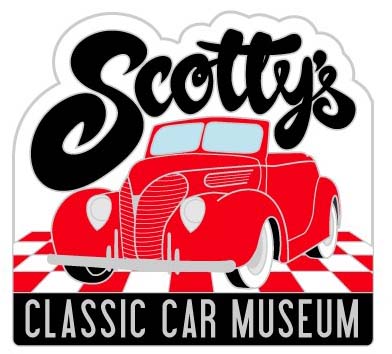 Scotty's Classic Car Museum
ATTRACTIONS OFFICIAL WEBSITE&nbsp&nbsp&nbspCONTACT ATTRACTION
TELL A FRIEND

Visit the classic car museum and gift shop. The museum exhibits classic and antique autos and hundreds of interesting pieces of memorabilia and artifacts connected with the automobile industry. There are also many other items on display that will take you on a journey into the past. See our little mannequin in his Roy Rogers shirt and cowboy outfit, watch for the carhop in her poodle skirt, remember all those toys you had as a child, listen to that magical music, spend the afternoon with a cold coke from the old-fashioned coke machine, and stroll through the museum remembering your youth. The purpose of the museum is to exhibit antique automobiles and memorabilia from days gone by and to encourage the preservation of their history. Stop by and spend some time browsing amongst the autos and other memorabilia. You can also visit our "Memory Lane" gift shop which features automobiliea and 50s-60s items to take you back to the past such as kit-kat klocks, Marilyn, Elvis, James Dean, 3 Stooges, Betty Boop, Star Trek, Rock n Roll Hall of Fame Museum collectibles, automobilia, Coca-Cola, Pepsi, Dr.Pepper, etc.

Hours
Tue-Sat 11am-5pm. Call for after hours appointments.
alt=directions
Approx. 18 miles S of Fort Scott or 7 miles N of Pittsburg on 69 by-pass in Arma.
No admission charge. Free will donations accepted.
NON SMOKING, KID FRIENDLY, PARKING AVAILABLE,
This Page Has Been Viewed 1 Times