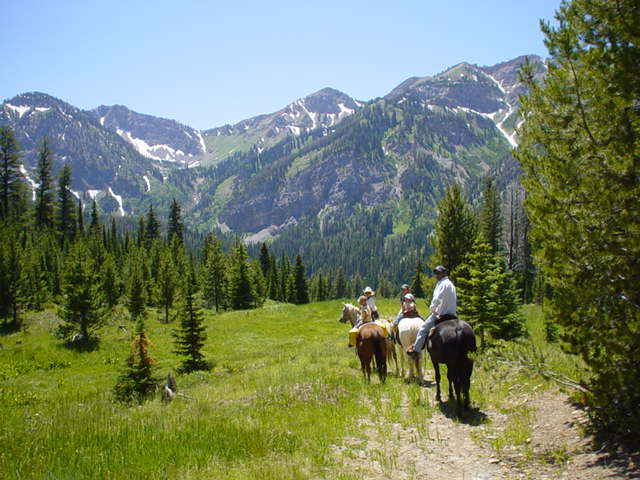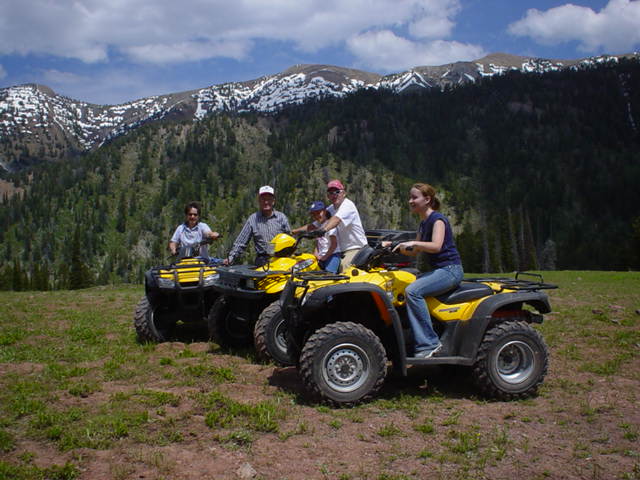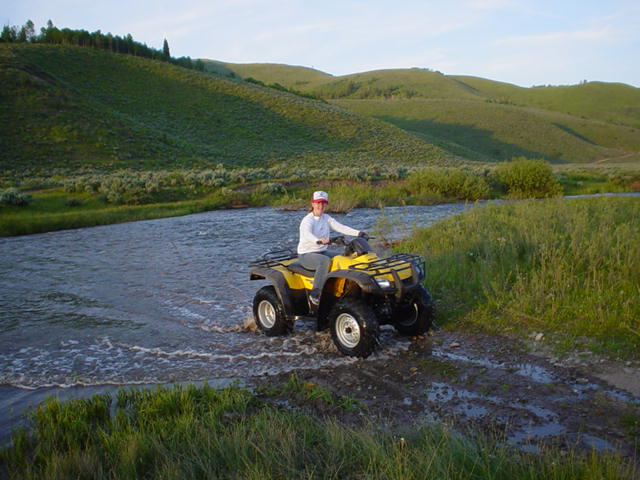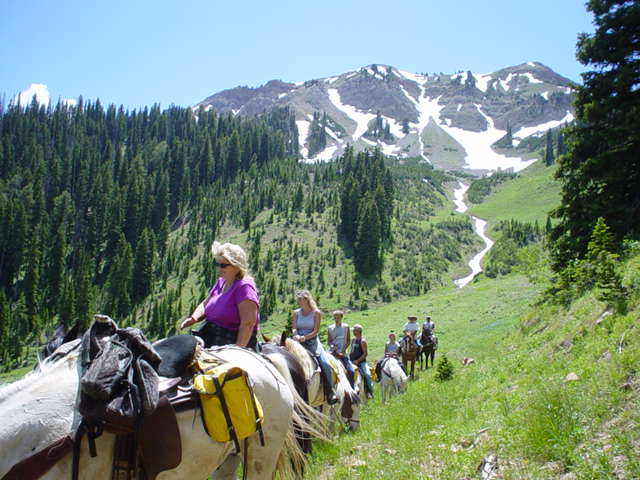 alt=nearby attraction
Explore with Jackson Hole Outfitters
ATTRACTIONS OFFICIAL WEBSITE&nbsp&nbsp&nbspCONTACT ATTRACTION
TELL A FRIEND

Horses, 4-wheel ATVs, and rafts near Jackson Hole, Wyoming. We have unguided horse, raft, and ATV rentals as well as guided all-day horse rides into the back-country near Jackson Hole, Wyoming. Fantastic scenery! Wildlife! Small groups. Back-country rides are away from the crowds.

Horseback Riding:
Ride beautiful trails, old primitive roads, and pristine forest on public lands. I rent you the horses and show you where to ride. What you do after that is your business, as long as you are careful and don't abuse the horses. One trail goes up a hill where you can see a beautiful view of Palisades Lake in the distance. We provide all-day horse rides with lunch near Greys River, south of Jackson Hole. On our rides we see tourists near the roads but from the time we get on a horse and head up the trail until the time we return hours later, we almost never see humans.

Four-Wheel/ATV:
The funnest thing to do in the Jackson Hole area is to explore God's Country on a 4-wheel ATV! We have ATVs for rent, unguided! We have miles and miles of scenic ATV Forest Service trails and roads as well as mud flats, to ride on!

Riders MUST obey Forest Service rules on where you can ride. Trailer may be available for additional fee. Pay cash for rental, but credit card or substantial deposit required for security and/or damage. Drivers license required. Damage to you or the machine is your responsibility and expense. Gas is also your expense.

Unguided Raft Rentals:
Take your family or group through the whitewater two or three times in one day! 14 foot and 16 foot rafts available from 8 man to 12 man capacity, priced from $85 to $100 per day. Price includes paddles, lifejackets, air pumps, bail/ water-fight buckets. Reservations not required, but advised.

NOTE: We are closed on Sunday, so rafts rented for Sunday must be picked up on Sat before 5pm. We will make arrangements to have them returned Sunday eve or Mon morning. $5 extra for Sunday night return.

Raft trailers available if needed to hitch on to your vehicle, $10 per day. 2 inch ball. Rafts can be tied on top of some cars or taken deflated.

Riding & Rafts is Open Monday through Saturday 9:00 am to 6:00 p.m., late May to September 10. Rafts returned after 6:00 pm will pay an additional $3 for each 5 minutes late. Raft may be returned the next morning at 9:00 am, by prior arrangement. Raft may be rented Saturday evening and returned Sunday evening or Monday morning.
alt=directions
35 miles southwest of Jackson Hole, down the scenic Snake River Canyon, in Alpine at the junction of Hwy 89/26.
Rates For 2006 (Subject to change at any time.)

Guided all day trailrides $110 each.
Unguided horses $55 all day; $35 half day.
Unguided ATV rental $90 per day each.
Unguided Raft rental 8 man and 12 man rafts.
,CASH
KID FRIENDLY, PARKING AVAILABLE,
This Page Has Been Viewed 1 Times