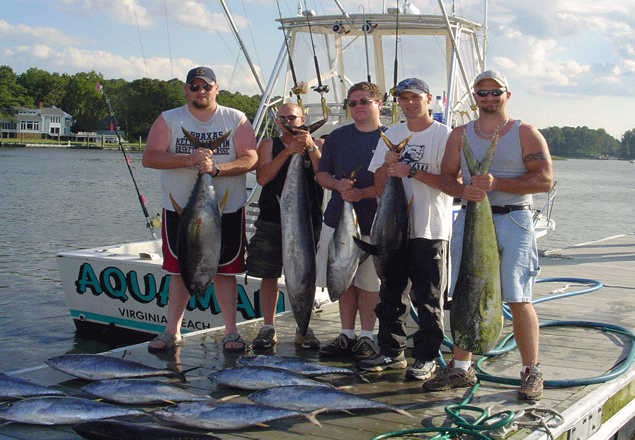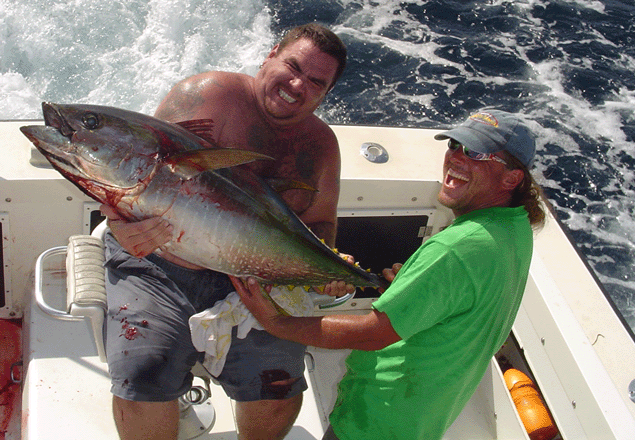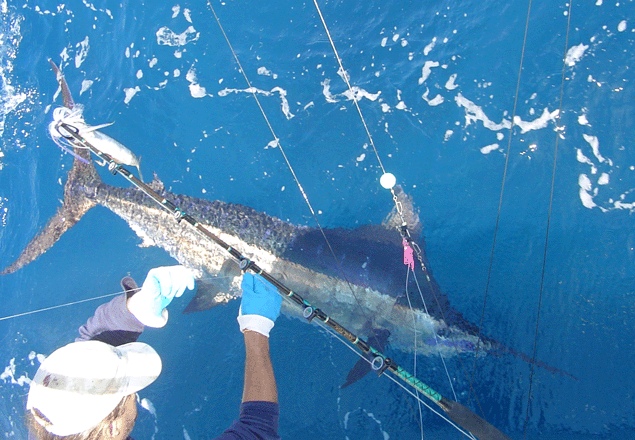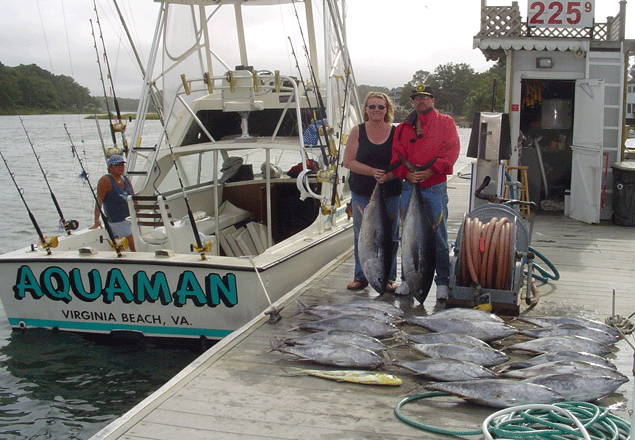 AquaMan Sportfishing Charters
ATTRACTIONS OFFICIAL WEBSITE&nbsp&nbsp&nbspCONTACT ATTRACTION
TELL A FRIEND

Charterboat, Aquaman, based in Virginia Beach, provides offshore deep sea fishing charters. Experience offshore Virginia saltwater fishing or enjoy a day of inshore fishing in Cheaspeake Bay.

Inshore Trips: (within 15 miles)
Areas fished during inshore trips may include the Chesapeake Bay Bridge Tunnel (CBBT), the Hampton Roads Bridge Tunnel (HRBT) and other parts of the bay. Near coastal areas out to the Chesapeake Light Tower are also considered inshore. Targeted species depend on the time of year and may include Grey Trout, Striped Bass, Black Sea Bass, Tautog, Flounder, Red Drum, Black Drum, Cobia, Bluefish, Spanish Mackeral, Croaker, Spot and Spadefish.

Intermediate Trips: (15 - 30 miles)
Intermediate trips mainly consist of wreck fishing. This could be trolling for King Mackeral, Amberjack and Jack Crevalle or chunking for Sharks. This also includes bottom fishing for Black Sea Bass, Tautog and Triggerfish.

Offshore Trips: (Over 30 miles)
(Available June through November)
This is the ultimate trip of all. You will travel well out of site of land (sometimes 60 miles) to the deep blue waters of the Gulf Stream in search of the big boys. You will spend the day learning the ropes as you troll the deep for Blue Marlin, White Marlin, Sailfish, Bluefin Tuna, Yellowfin Tuna and Big Eye Tuna, Dolphin and Wahoo. These offshore species put on one heck of a show as they show you what it means to do battle with a worthy opponent. During October we spend time chunking offshore for Yellowfin and Big Eye Tuna out of Oregon Inlet. Over night trips are available when the weather permits.
alt=directions
We are located in Virginia Beach, Virginia on Rudee Inlet right behind Rockafeller's Restaurant.
Prices starting at $450.00 for 1/2 day to $1,500.00 for overnight.

Prices vary and subject to change without notice.

Please email or call for further details.
VISA ,PAYPAL ,MASTERCARD ,DISCOVER ,CASH ,CHECKS
KID FRIENDLY, PARKING AVAILABLE, RV PARKING, FOOD AVAILABLE
This Page Has Been Viewed 1 Times