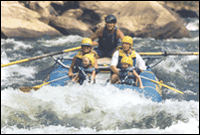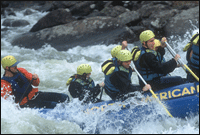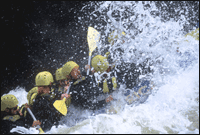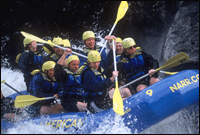 Whitewater rafting in West Virginia-Gauley River-New River-WV outdoor adventure vacations with North American River Runners
ATTRACTIONS OFFICIAL WEBSITE&nbsp&nbsp&nbspCONTACT ATTRACTION
TELL A FRIEND

West Virginia whitewater rafting on the New and Gauley Rivers -West Virginia kayaking, climbing, biking, hiking, fishing, camping, and team building.

Whitewater rafting in West Virginia (WV) is just one of the many adventures in the outdoors you'll experience when your travels bring you to Wild and Wonderful West Virginia. Both accessible and beautiful, the Mountain State is close to major metropolitan areas. A wide variety of adventure sports and moderate climate make WV the perfect choice for vacations throughout the year.

Located in the Allegheny Plateau of the Allegheny Range, the rivers and streams cut through the mountainous terrain. The most notable rivers for whitewater rafting and kayaking in WV are the New River and Gauley River. Each of these rivers is further divided into different sections offering diverse adventures.

The Upper New River--Family Class—is the mildest and gentlest. First-timers and seasoned veterans, young and old alike, find the Upper New a delightful way to spend the day. The Upper New is also a great section for learning to kayak. The Lower New River--Adventure Class—features bigger rapids, rocks and drops. The Gauley River--World Class--gets its notoriety from the annual Fall Drawdown from Summersville Dam that attracts whitewater rafting enthusiasts from around the world. The Upper Gauley River features some of the most challenging white water and the largest drops. The Lower Gauley River boasts the most runnable waves and holes. Both rivers are set in stunning, wilderness gorges.

Beyond and around the area's rivers are forested mountains—a vast playground for more adventure sports like rock climbing, mountain biking, All-Terrain-Vehicle (ATV) trail rides, horseback trail rides, paintball and lots of hiking trails. You can combine playing and learning through team building activities on or off the river. High and low ropes courses allow challenge by choice and a 40-foot Climbing Wall simulates rock climbing.

So, why choose North American River Runners? Because we fell in love with this piece of heaven in West Virginia—its mountains, its rivers, its seasons, its slow pace, its countryside. And we want to share our love for adventure with you. We're affordable and accessible. We offer a variety of whitewater rafting adventure packages, a group program called TAG, nice facilities and nice people—all designed to make your vacation a memorable one. North American River Runners… your Adventure Connection since 1975.
alt=directions
Please email for further details.
VISA ,MASTERCARD ,DISCOVER ,CASH ,CHECKS
KID FRIENDLY, HANDICAPPED ACCESS, PARKING AVAILABLE, RV PARKING, FOOD AVAILABLE
This Page Has Been Viewed 1 Times