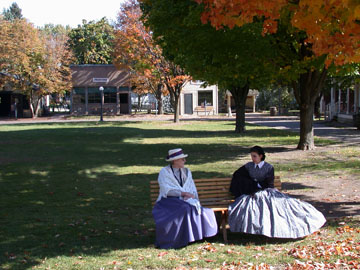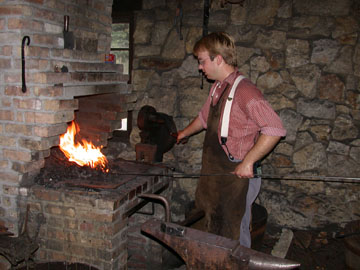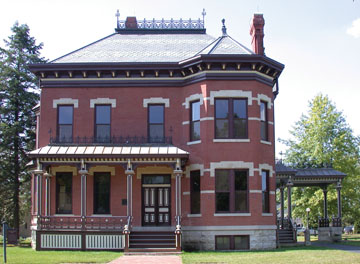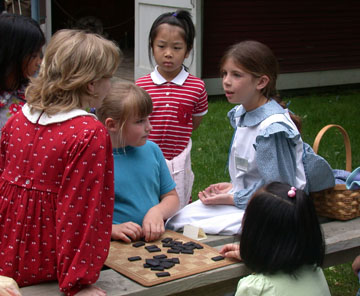 alt=nearby attraction
Naper Settlement -- A 19th Century Village
ATTRACTIONS OFFICIAL WEBSITE&nbsp&nbsp&nbspCONTACT ATTRACTION
TELL A FRIEND

About Us
Experience History at Naper Settlement Naper Settlement is a family-friendly outdoor history museum featuring 12 acres of learning and interactive opportunities for all ages. Located in downtown Naperville, Naper Settlement is just steps away from dining, shopping and the Riverwalk. Visitors will be immersed in history as they learn about the past and how it relates to the present, from pioneer times to today. Highlights include special events and programs and activities year-round, both on- and off-site. Each year, 125,000 visitors, including 35,000 northern Illinois schoolchildren, experience living history at Naper Settlement.
History
Naper Settlement was established in 1969 by a group of individuals who were interested in saving the Civil War-era St. John's Episcopal Church from possible demolition. The group, called the Naperville Heritage Society, was a grassroots effort of community members who raised the funds, both in cash and in-kind, to have the historic church transferred to the grounds of the Martin Mitchell Mansion. Read more about the history of Naper Settlement.
Renovations
In 2000, the Martin Mitchell Mansion underwent a three-year, $2.8 million restoration that brought back the Victorian beauty to its original splendor. When it re-opened in 2003, the transformation was spectacular and the mansion has won numerous awards. Read more about the restoration.
Looking Forward
As the Naperville Heritage Society looks to the future, it has developed a 25-year plan with an eye toward sustainability and environmental considerations, in addition to positioning the museum as Chicagoland's outdoor history museum. Our goals are to tell experiential, engaging and compelling stories, provide relevancy to today and connect with the downtown and the community in a broader sense. We feel it is essential to tell Naperville's story beyond the 19th century and to retain the open space that Caroline Martin Mitchell bequeathed to the city. Naper Settlement's buildings will continue to be placed in a way that engages visitors and helps them to appreciate and connect to the Naperville of yesterday and today.
alt=directions
Directions
Location
Naper Settlement is located 28 miles west of Chicago, close to interstates 88, 355 and 55. The museum is situated two blocks south of Jefferson Avenue, two blocks west of Washington Street, at the southwest corner of Aurora Avenue and Webster Street and across from the City of Naperville Municipal Center. View museum parking information or Illinois travel tips for more information.
Directions
From the East
Take the Eisenhower Expressway west or the Tri-State Tollway (I-294) to the Ronald Reagan Memorial Tollway (I-88) toward Aurora. Exit at Naperville Road and make a left turn at the end of the exit ramp onto Freedom Drive. Take the 3rd right onto E. Diehl Road. Turn left onto N. Washington St. Turn right at the stoplight on Aurora Avenue and go two blocks to Webster Street. Turn left on Webster Street and proceed one block for parking.
From the West
Take the Ronald Reagan Memorial Tollway (I-88) east toward Chicago. Exit at Winfield Road and turn right (south) at the end of the ramp. Proceed to the stoplight at Diehl Road and turn left (east) to Washington Street. Turn right on Washington Street and proceed south into downtown Naperville. At the stoplight at Aurora Avenue, turn right and go west two blocks to Webster Street. Turn left on Webster Street and proceed one block for parking.
From the North
Take Route 59 south to Aurora Avenue. Please note: Aurora Avenue turns into East New York Street west of Route 59. Turn left (east) on Aurora Avenue, proceeding to Webster Street. Turn right on Webster Street and proceed one block for parking.
From the South
Take the Stevenson Expressway (I-55) to I-355 North (Veterans Memorial Tollway). Exit at Maple Avenue West. Proceed about seven miles into downtown Naperville. Maple Avenue will turn into Chicago Avenue after Naper Boulevard. Turn left (south) at Washington Street, and go one block to Aurora Avenue. Turn right (west) onto Aurora Avenue. Go two blocks to Webster Street, turn left and continue one block for parking.
Membership Benefits
As a member of the Naperville Heritage Society and Naper Settlement, you and your family not only receive free admission to one of the country's premier outdoor history museums, but you are part of the efforts to preserve our region's rich heritage. Purchase your membership online or by calling 630.420.6010.

Individual Season Pass $50
Family Season Pass $100
Good for up to two people
Good for up to four people
Free General Admission
Two tickets to: Civil War Days Naper Nights Oktoberfest All Hallows Eve
Four tickets to: Civil War Days Naper Nights Oktoberfest All Hallows Eve
Treasures Magazine Subscription

Sustaining Member
As a sustaining member, you not only support the Naper Settlement's mission of education and historic preservation, but you also receive expanded membership benefits. View additional information about sustaining members.
Heritage Alliance
The Heritage Alliance celebrates special individuals, corporations and other groups that have made significant contributions to support the Naperville Heritage Society and Naper Settlement.
VISA ,MASTERCARD ,DISCOVER ,CASH ,CHECKS
NON SMOKING, KID FRIENDLY, HANDICAPPED ACCESS, PARKING AVAILABLE, RV PARKING, FOOD AVAILABLE
This Page Has Been Viewed 2042 Times