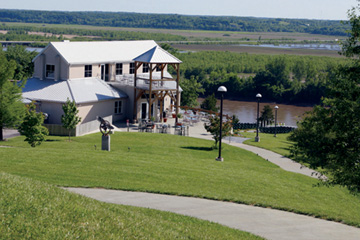 Les Bourgeois Winery
ATTRACTIONS OFFICIAL WEBSITE&nbsp&nbsp&nbspCONTACT ATTRACTION
TELL A FRIEND

Known for its spectacular blufftop view of the Missouri River Valley, Les Bourgeois Winery and Vineyards is one of Mid-Missouri's premier cultural and recreational attractions. A family owned and operated winery, Les Bourgeois offers visitors a taste of some of the Show-Me State's finest award-winning wines, exquisite bistro cuisine and beautiful scenery.

Les Bourgeois offers a unique combination of rural quaintness and convenient accessibility. Located just one mile off the I-70 corridor halfway between Kansas City and St. Louis, Les Bourgeois is a popular destination point for tourists drawn to Rocheport by its fine antique shops, world-class bed and breakfasts, and easy access to the Katy Trail.

Consistently voted Boone County's Best Place to Take Out-of-Town Guests, Les Bourgeois offers full service blufftop dining year-round at the winegarden and bistro, which opened in November, 1996. The original blufftop outdoor winegarden (the A-Frame) is a favorite warm-weather retreat for picnic-ers from surrounding communities. And, the winery and adjacent gift shop located just of the Rocheport Exit (115) are a popular stop for travelers seeking a respite from I-70 or unique Les Bourgeois souvenirs.
alt=directions
Les Bourgeois is located just one mile off of Interstate 70 in historic Rocheport, Missouri--just about 15 minutes from the University of Missouri Campus in Columbia. Take the Rocheport Exit off of the Interstate onto Highway BB. The winery (production facility) and gift shop are on the northeast corner right at the exit. To get to the blufftop outdoor wine garden and year-round bistro, follow BB just one mile. Signs will show the way!
Rates vary; please email or call for further information.
VISA ,MASTERCARD ,CASH
NON SMOKING, KID FRIENDLY, PARKING AVAILABLE, RV PARKING, FOOD AVAILABLE
This Page Has Been Viewed 1 Times