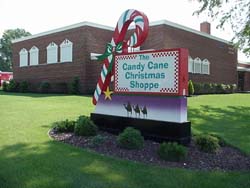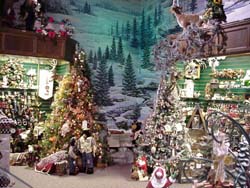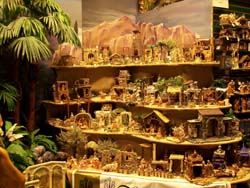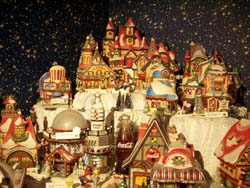 alt=nearby attraction
Year-Round Christmas
ATTRACTIONS OFFICIAL WEBSITE&nbsp&nbsp&nbspCONTACT ATTRACTION
TELL A FRIEND

The Candy Cane Christmas Shoppe is located in the former Elmira Elementary School. It was once a one-story school that had four (4) classrooms, gym, kitchen & other rooms. A major renovation took seven (7) months and opened in September of 1998, the first year-round Christmas shop in Northwestern Ohio with 10,000 square feet of Christmas.

Today each of the rooms has a different theme. The former gym is now The Grand Christmas Room. It has a large hand painted mural 8' high & goes entirely around the room; a local artist painted it. This room has approximately 30 trees decorated in different themes.

The area just off of the Grand Christmas Room (once a stage) is now The Bethlehem Corner. It has a life size Nativity and many other smaller nativities of all sizes and designs.

Other rooms in the shop include the Kids Room; The Den; The Twigs & Tree Room and The Tea Room with sitting area.

Even the hallway and enclosed porch are displaying seasonal items, candles, potpourri and much more.

We are not just Christmas. We carry many home decor lines as well as fine collectible lines. Just to name a few: Boyd's Bears, Jim Shore, Heritage Villages, Snowbabies, Precious Moments, Seraphim Angels, Fontanini.........
alt=directions
We are located 3 miles North of Archbold on US 20A in the little town of Burlington.
VISA ,MASTERCARD ,DISCOVER ,CASH ,CHECKS
NON SMOKING, KID FRIENDLY, HANDICAPPED ACCESS, PARKING AVAILABLE, RV PARKING, FOOD AVAILABLE
This Page Has Been Viewed 1 Times