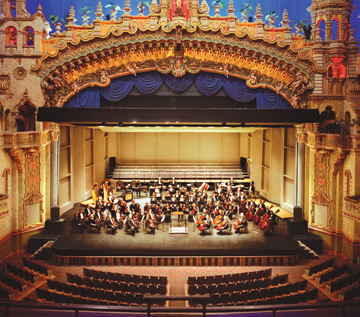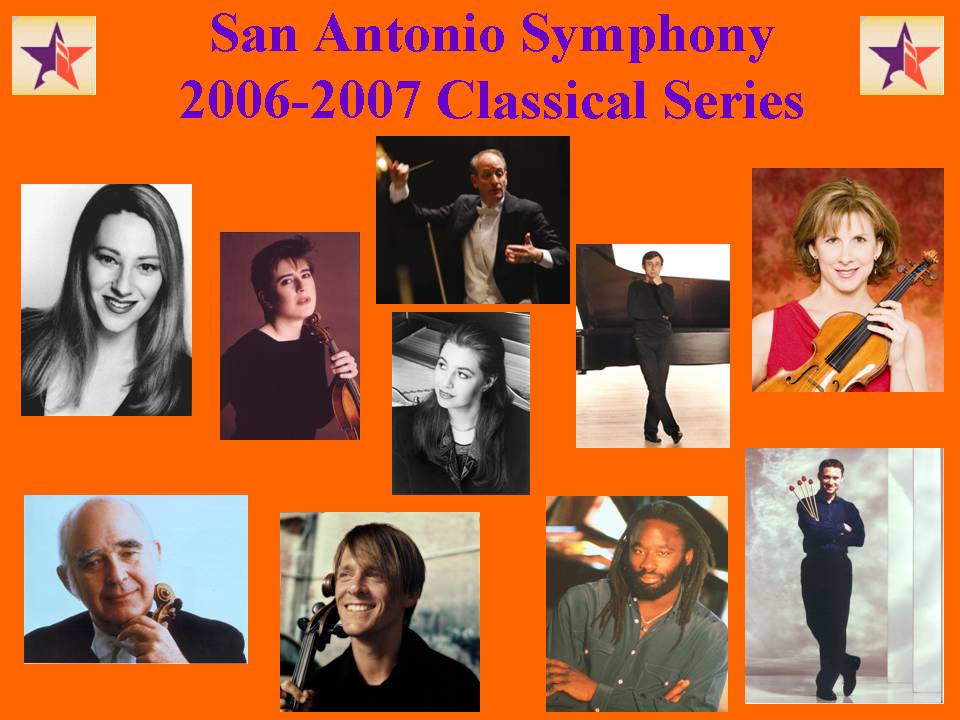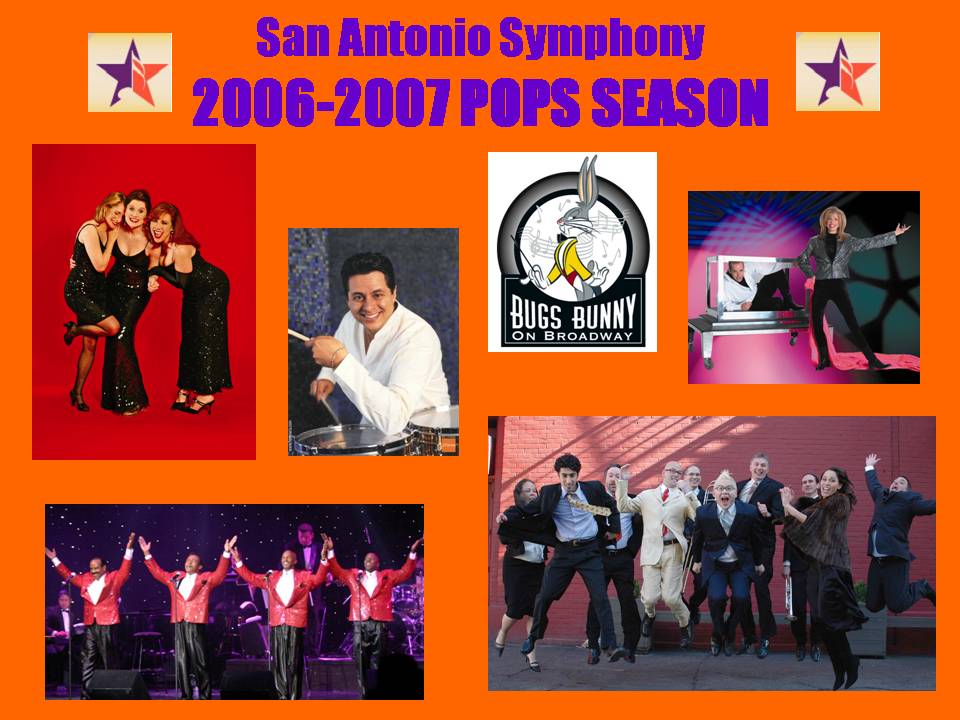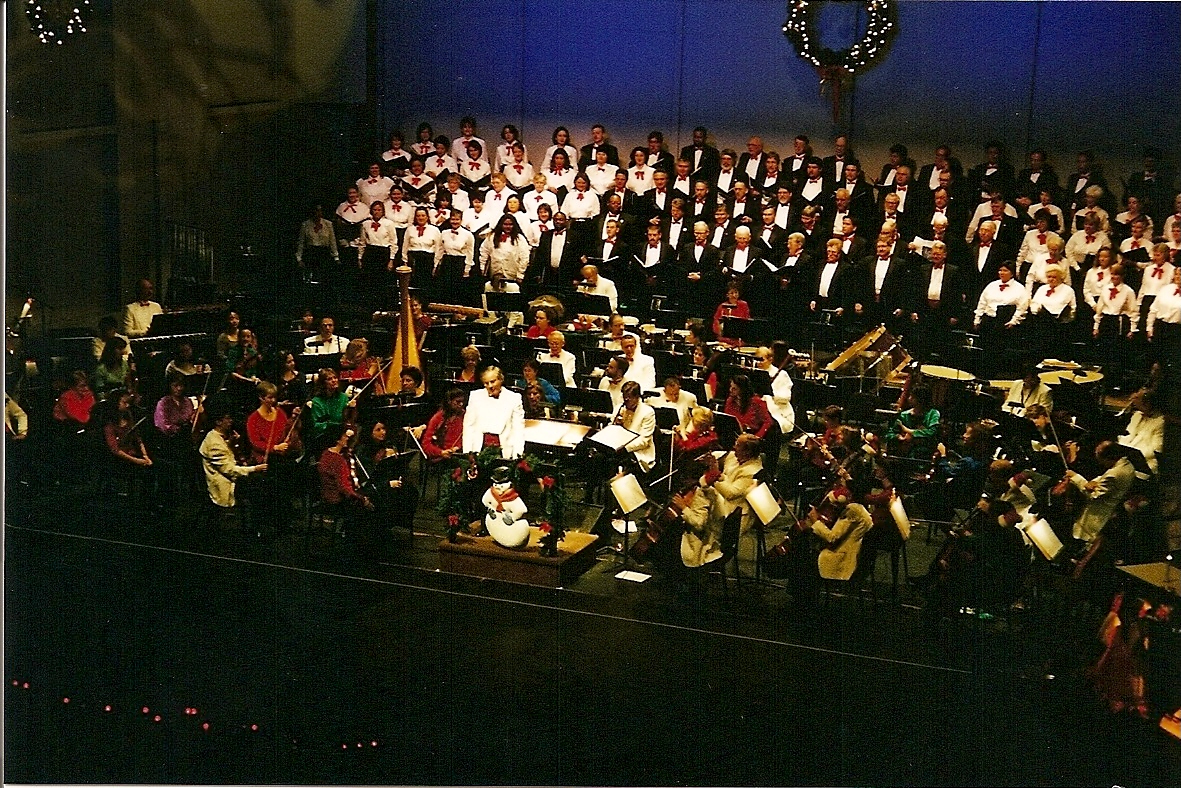 alt=nearby attraction
Majestic Theatre
ATTRACTIONS OFFICIAL WEBSITE&nbsp&nbsp&nbspCONTACT ATTRACTION
TELL A FRIEND

Our 2006/2007 San Antonio Symphony Classical and Pops season will soon begin and we would like you to join us for an exhilarating season with Music Director Larry Rachleff, celebrated guest conductors, world-renowned soloists, and our own superb orchestra. We've scheduled some of today's most popular guest artists to perform with the San Antonio Symphony. Take a look at what's planned for you: Highlights for next season's Pops Series include: The Three Broadway Divas – performing best-loved tunes from Broadway shows; Back by popular demand! Pink Martini – an amazing blend of jazz, classical and Latin music; Lynn Dillies in Magic at the Symphony – illusions and magic with the beauty of symphonic classics; Bugs Bunny on Broadway – the "wascally rabbit" is featured on a giant screen along with music scores; Tito Puente, Jr. – "Prince of Latin Dance" brings his fusion of Pop, Latin Jazz and dance; Spectrum – A tribute to the sounds of Motown and R&B comes to the Majestic Theatre. Highlights for our Classical Series include: Violinist Nadja Salerno-Sonnenberg performing works of Bach; Legendary conductor and violinist, Joseph Silverstein; Spellbinding cellist Alban Gerhardt performing Saint-Saëns' Concerto No. 1 for Cello and Orchestra; Charismatic Colin Currie, percussionist extraordinaire; Pianists Robert Levin, Lilya Zilberstein and Van Cliburn winner Alexander Kobrin. Half-series packages of 3 concerts for the Pops Series start as low as $27 and half-series packages for the Classical Series of 6 performances start as low as $54. Season ticket benefits include: savings of 10% off the single ticket prices, a flexible exchange policy and advance opportunity to purchase tickets to our Special Attractions performances that include The Nutcracker, A Night In Old Vienna and The Five Browns. See the enclosed order form for a complete price listing and performances. Located in the heart of downtown San Antonio, the Majestic Theatre is the performance home of the San Antonio Symphony. Completed in 1929, the Majestic is one of the few remaining examples of the atmospheric movie palace.

Designed by architect John Eberson, who founded the atmospheric school, the Majestic features a dazzling interior that simulates a Mediterranean amphitheater in a Moorish-Baroque style. The elaborate ornamentation is vividly evident in the auditorium, with its breathtaking collection of niches, alcoves, grottos, and sculptures, all colorfully illuminated. The orchestra section and the two-level mezzanine contain 2,400 seats, surrounded by vines, trees, birds, and lush gardens held within the ornate walls. A simulated night sky is found overhead—dark blue, speckled with twinkling stars and with wispy clouds floating in and out of view.
alt=directions
For complete directions to the Majestic Theatre visit our website.
Prices start as little as $11.50 for all Classical and Pops performances. RUSH tickets are available for Seniors, Students and Military for 1/2 price beginning 2 hours prior to showtime at the Majestic Theatre Box Office.
VISA ,MASTERCARD ,DISCOVER ,CASH ,CHECKS
HANDICAPPED ACCESS, PARKING AVAILABLE,
This Page Has Been Viewed 1 Times