PARADISE WATERSPORTS #1 Parasailing & Jetski Rentals!
ATTRACTIONS OFFICIAL WEBSITE&nbsp&nbsp&nbspCONTACT ATTRACTION
TELL A FRIEND

Paradise Watersports is the largest Watersports facility in Ocean City with the most exciting activities to do in one place! Our staff is highly trained and focused on your safety! We are located to the left of the Rt. 50 bridge just before you enter Ocean City at Hoopers Crab House.. Plenty of free parking! So stop by, enjoy some seafood, have some cold drinks, and let us take you on a parasailing adventure that you will never forget!
Parasail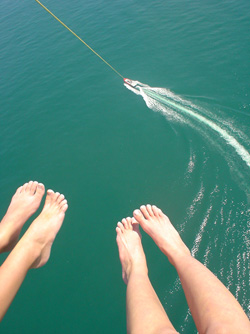 Fly 800 feet!!! Our Parasailing has been rated the best in Ocean City! Offering the longest rides at the lowest prices! We have two boats equipped with the latest winch boat technology which provides comfortable, safe takeoffs and dry landings right off the back of the boat.. We can carry up to 6 flyers per trip! Fly in the bay and see Ocean City from a bird's eye view - or fly in the ocean and check out the beach and the dolphins! Free-falls and dips available no extra charge.. Fun and safe for all ages.. Captain and Mate have a perfect safety record and are both CPR certified. No experience needed!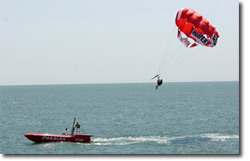 Jetski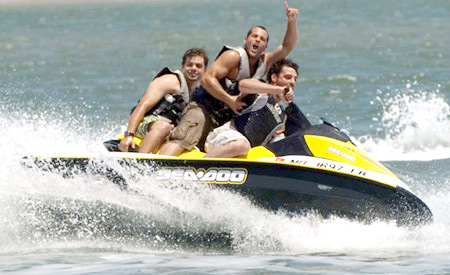 Paradise Watersports offers the fastest waverunners in Ocean City! Our fleet consists of brand new Seadoo Gti 4-stroke "3-person" 1500cc skis that will blow your mind! We supply everything you need for an exciting ride... from life vests, safety training, and instruction to the "LARGEST" non-restricted riding area in Ocean City. (Must be 16 with proof of ID)
alt=directions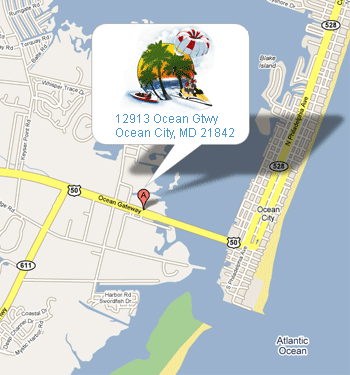 You can't miss us! We are located to the left of the Route 50 Draw Bridge just before you enter Ocean City at the docks of "Hooper's Crab House"... So call and make your reservation today!
410-213-SOAR
Coupons
Print and clip out our coupons online.. keep in mind we will honor any competitors coupons!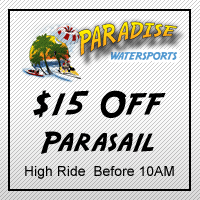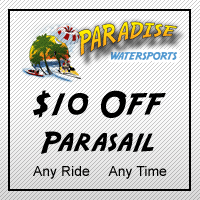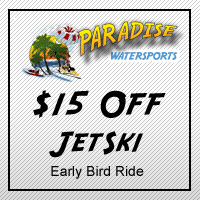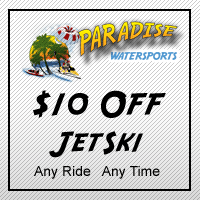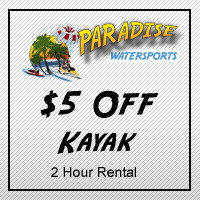 VISA ,MASTERCARD ,CASH
KID FRIENDLY, PARKING AVAILABLE, RV PARKING, FOOD AVAILABLE
This Page Has Been Viewed 4083 Times